The Wedding Jam Blog
Memorable Stories from Unforgettable Weddings.
Wedding Jam link up with Playlist for Life charity
Wedding Jam is thrilled to announce a new partnership with the wonderful charity Playlist for Life, who harness the unlimited power of music to help those living with dementia.

It may be a well-worn phrase, but it's one we can never escape - 'music is the universal language'. It's arguably the fundamental factor in why music is so profoundly magical; that its central tenet is about emotions, and stirring those emotions in ways nothing else can.
It was partly with this common ground in mind that attracted us to the wonderful work carried out by Glasgow-based charity Playlist for Life. We are absolutely delighted to announce a new partnership with Playlist for Life - more details to come in due course! - and we are thrilled about the possibilities that lie ahead.
Wedding Jam, essentially, is in the business of making memories through music. Playlist for Life's remit, in a way, is about retrieving memories through music - harnessing its incredible power to help those affected by dementia.
The charity's Head of Communications and Campaigns, Michelle Conlin, told us:
"Playlist for Life is the leading music and dementia in the UK, and this year we celebrate our 10th birthday. We promote the use of personally meaningful music and have a simple aim: we want everyone living with dementia to have a unique personal playlist and for everyone who loves and cares for them to know how to use that playlist effectively. Music is such a personal thing and we believe that everyone has a unique 'soundtrack' to their life. This could be music linked to childhood memories, a song played during a special occasion, the first dance at your wedding or songs sung at sports stadiums."
It is a fabulous initiative, and the work they carry out is vital. Music can have an astonishing effect on people living with dementia.
In 2016, legendary crooner Tony Bennett was diagnosed with Alzheimer's, and during rehearsals for his final performance in 2021, Lady Gaga, with whom he was due to perform, believed Bennett no longer knew who she was, and he never once called her by her name.
She explained, "For the first couple of weeks that I saw Tony since COVID, he called me 'sweetheart', but I wasn't sure he knew who I was any more."
The pop icon went on to explain that while Tony's memory appeared to be failing him, something magical happened when the music began.
"When that music comes on, bang, something happens to him," she said. "He knows exactly what he's doing and what's important for me, actually, is to make sure that I don't get in the way of that."
But when showtime arrived, Bennett surprised Lady Gaga in a magical moment by introducing Gaga by her name. "That was the first time that Tony said my name in a long time," she recalled. "I had to keep it together because we had a sold-out show and I had a job to do. But I'll tell you when I walked out on that stage and he said, 'It's Lady Gaga,' my friend saw me. It was very special."
The 2014 Grammy award-winning film 'I'll Be Me' chronicles iconic US country singer and guitarist Glen Campbell's final years, as Alzheimer's robs him of his memory.
Diagnosed with the disease at the start of filming, it becomes a deeply heartfelt, honest and moving account of Campbell's decline, as he prepares to embark on a 150-date tour. As the film goes on, his condition worsens - he no longer recognises his wife or children, and can't even recognise himself when he's shown clips of his former glories. But when showtime comes, and Glen straps on his guitar, he performs almost flawlessly for two hours. A fabulous guitarist, he shreds away without a care in the world, bashing out classics like 'Wichita Lineman', 'Gentle on My Mind' and many others. It is profoundly moving, a testament to the unbridled and magical power of music.
And that power of music is absolutely central to Playlist for Life's sterling work. So how does the charity work in practical terms? Head of Comms Michelle Conlin explained:
"We're a fairly small charity (a core team of 10) but you can find Playlist for Life right across the UK. We've built a network of over 2500 'Help Points', places within communities where people affected by dementia can find out more about the power of meaningful music and get support to create a playlist for themselves or a loved one. We also work with healthcare and social care professionals and have trained over 9,000 people on how to use playlists to deliver person-centred dementia care."
Anyone who has been or is affected by dementia is painfully aware of the cruelty of the condition. Music may not be a cure, but it can bring unspeakably priceless moments of respite, comfort and even joy.
"Playlists are a simple intervention, but they can be truly life-changing for a person living with dementia, as well as their family and carers", says Michelle.
"Music can be beneficial in a number of ways, but some examples of results we've encountered include: improved mood, reduced anxiety, strengthened relationships and even, in some cases, a reduction in medication. We worked with a GP at a care home in Glasgow who was prescribing music over medication. Music is not a cure for dementia and it doesn't work for everyone, but it can bring flashes of joy and moments of connection that dementia can take away from families."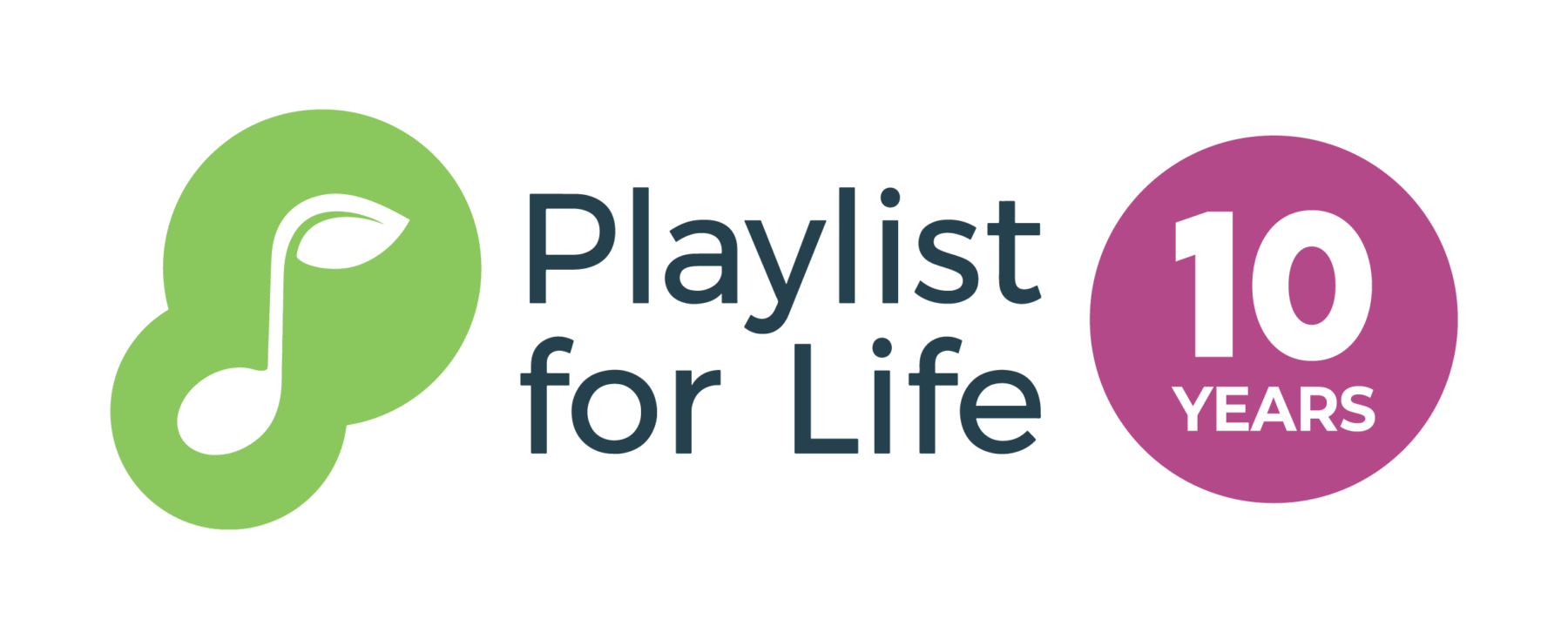 So what is it about music that makes it such a unique source of joy?

"Music is neurologically special in the way that it stimulates many parts of the brain at once", Michelle explains.
"This means that even if some of the brain is damaged music can still reach the other parts. Decades of scientific research has highlighted the power of music for conditions such as dementia. Personally meaningful music, which stirs motions or memories within the listener, is particularly powerful. And you don't need to have been a big 'music fan' your whole life to reap the rewards of music. We've seen instances where sports fans have connected with the chants from their sports team, and many people have TV theme tunes or movie soundtracks on their personalised playlist. Every staff member and trustee at Playlist for Life has their personalised playlist on our website. We encourage everyone, regardless of age, to get started on their playlist today."
And so would we. It's a genuine honour for us to partner with Playlist for Life, and we'll be announcing some details of the link-up in the not-too-distant future.
If you are affected by dementia, we would urge you to check out Playlist for Life and see what they can do you for and your loved ones. In the meantime, keep your eyes peeled for further developments.
As the Rolling Stones' Keith Richards once said, "Music is a language that doesn't speak in particular words. It speaks in emotions, and if it's in the bones, it's in the bones".