The Wedding Jam Blog
Memorable Stories from Unforgettable Weddings.
Vinyl at Weddings - The Revival!
Vinyl sets at weddings - along with vinyl-themed weddings - are enjoying a renaissance. We've had a look into what vinyl adds to an occasion, and hear all about it from the horse's mouth!

Working with music is a true labour of love for everyone at Wedding Jam. It's not really work, it's just a joy. Whatever the format, music is the universal language, it inspires us every day and it's an incredible privilege to be able to soundtrack kick ass weddings and help to create memories that last forever.
Plenty of folk are perfectly happy with their music in whatever format it is delivered - and that's absolutely fine - but vinyl occupies a special place in the heart of vast swathes of music lovers. Vinyl oozes passion - in the way it sounds, and in what it represents. Vinyl-heads are besotted, truly passionate about what they do, the records they buy and the records they play - and all of that passion is evident whenever a DJ spins a record.
After what looked like the beginning of a permanent demise in the 90s, vinyl has enjoyed a resurgence over the last decade or so.
Remarkably, in 2022 vinyl sales exceeded CDs in the UK for the first time in 35 years, but the 'vinyl revival' began in around 2007, and the number of vinyl albums sold has increased every year - according to figures from the British Phonographic Industry (BPI).
THE WEDDING VINYL REVIVAL - THE DJs' VIEW!
But it is in the wedding industry that we've felt the renaissance particularly keenly.
When we started Wedding Jam around 14 years ago, it was still fairly common to drop a wedding set on vinyl - CDJs were still around, but our OG DJ Paul had (and still has!) a funk and soul selection that was diverse and plentiful, and he could deliver a winner on vinyl every time. At our first residency, on a top floor in an old townhouse in Chester, Paul endured a mild panic about the dreaded needle-skip, as the bouncy floorboards, exacerbated by a dancefloor fully going off, wobbled the decks!
Renowned Wedding Jam DJ Marcus - also the founder and chief turntablist at the fantastic Speaker Box - reckons playing vinyl is well worth the investment, in more ways than one:
"I've never owned a controller or CD players. I've always played vinyl in clubs - mostly hip-hop, funk and soul. Playing vinyl is a massive investment in skills, equipment and the records themselves. I play weddings now on serato using DVS which is the best of both worlds. I also have phase as this stops bass feedback and copes with anyone hitting the decks, or a bouncy floor, and I keep the turntables on display - not hidden behind a screen. I still get asked to play vinyl at weddings - often a sentimental first dance that someone has on record, or a high school band they were in that have long disbanded.
I could still play an entire wedding but the client would have to be happy with what I play as you can only bring so much vinyl with you!
I think music with bass definitely sounds fatter off a record groove than an MP3. Even with serato you have the vinyl experience with access to a lot more music. An mp3 is maybe 99p, whereas I bought 4 new boogie tracks recently on vinyl - two 7"s - and it was almost £40."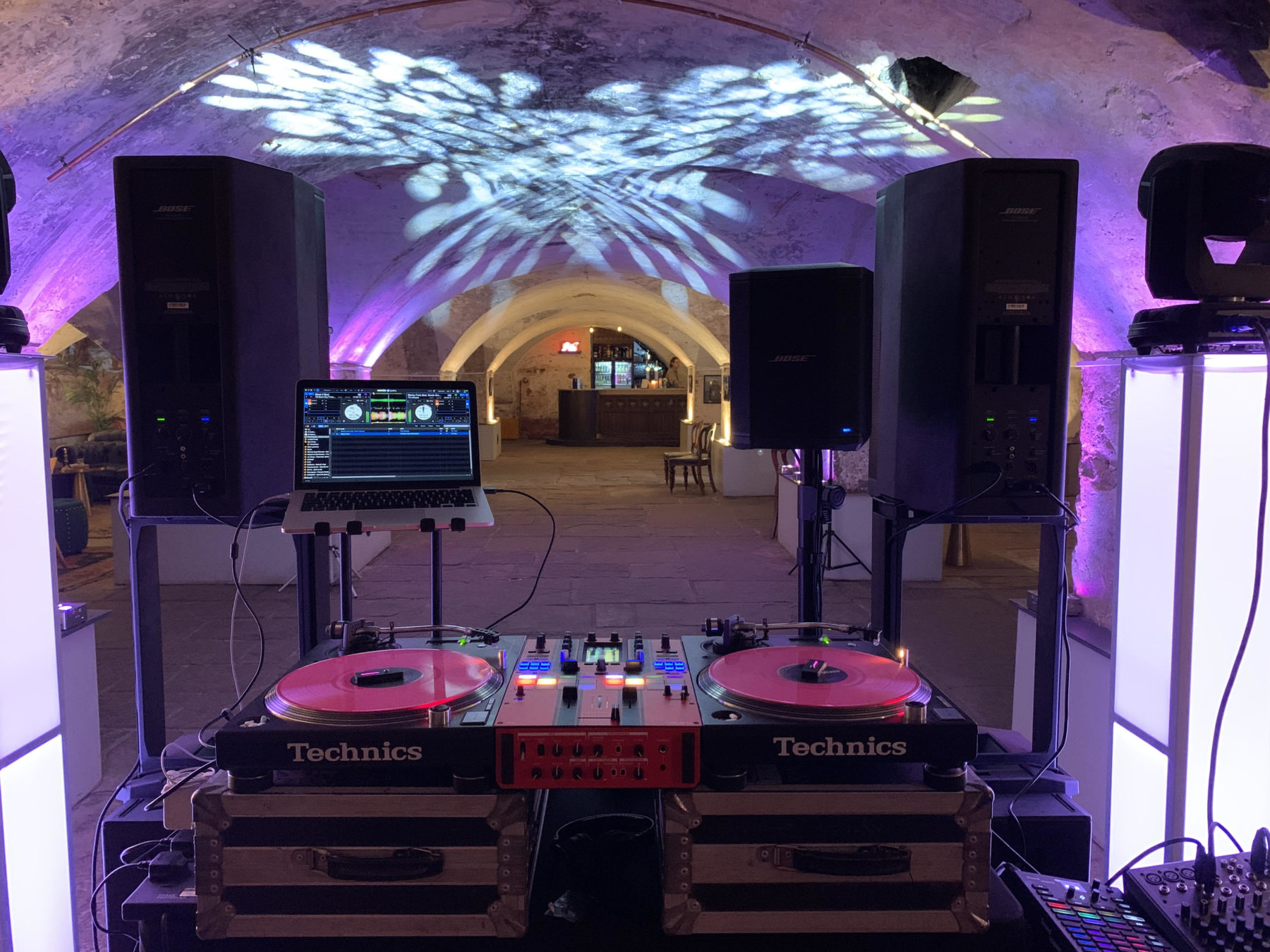 (pic: Marcus' set up from a recent event - the calm before the storm!)
Our mate Ailsa, from the fabulous Living Room Dance Club, has a stack of vinyl tales that we never tire of hearing.
"I've been DJing all vinyl sets at weddings for about ten years now. so I haven't so much noticed the resurgence as this has always been my way! I do think part of the appeal of playing vinyl which you don't get with digital is that visually it's a nice presence and it appeals to a wide age range of guests - the parents & grandparents who bought it first time around and the younger guests who have started collecting recently.
It tends to be couples who are music or vinyl enthusiasts themselves who choose to have a vinyl DJ - when I played at Owain & Nic's wedding, we went for a laid-back, soul-centric, sweet 60s set while they had their wedding breakfast which was the first time I hadn't just delivered a party set. It was a beautiful sunny afternoon and guests seemed to enjoy coming for a chat and looking at the sleeves etc."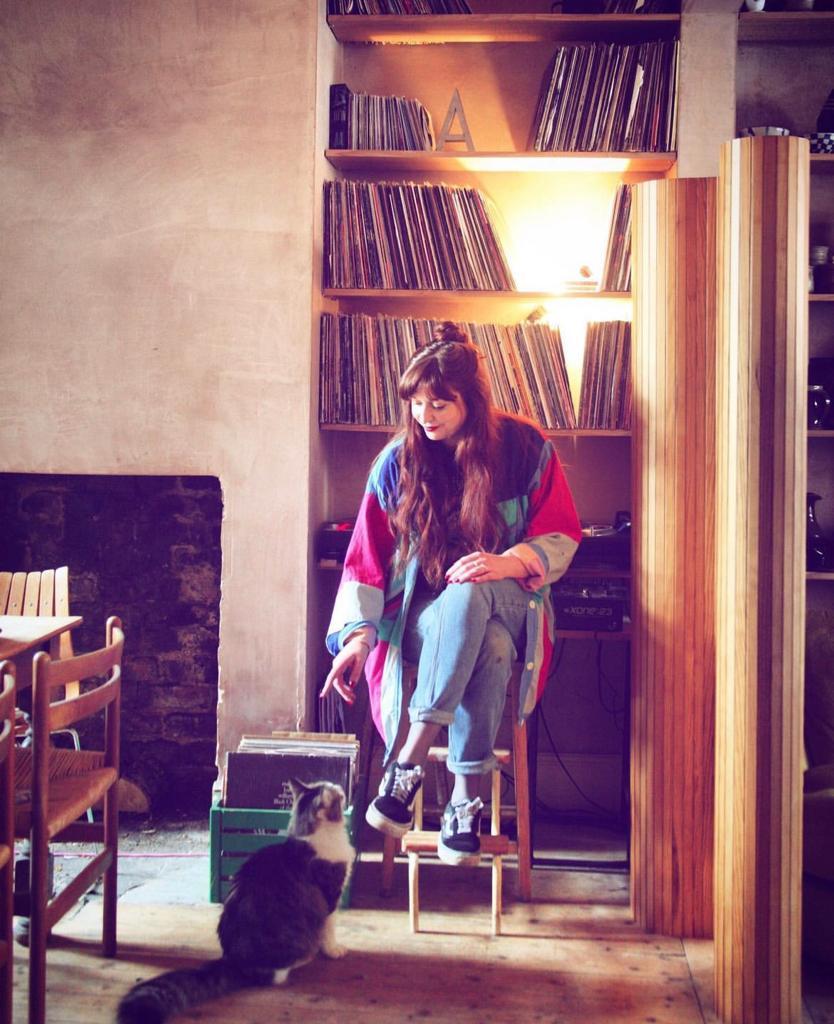 (pic: Ailsa vibing with a cat, and some of her lovely, lovely vinyl!)
"I started off wedding DJing pretty casually, doing friends' big days to begin with - Tim & Helen were extremely relaxed and gave me completely free reign - they didn't even choose a first dance! They eventually drifted onto the busy dancefloor just as I put 'Be My Baby' by The Shirelles on the turntable, and it was a perfect moment.
I've done many memorable weddings over the years, including Joe & Jess's at the Albert Hall in Manchester - I had to crawl under the stage in heels with two huge records bag whilst the band were playing and make my way up to the balcony. Despite the nature of the inaccessibility of the stage, two Kasabian fans, armed with memory sticks, still managed to make their pilgrimage all the way up to the top deck where I was, only to find that vinyl turntables have no USB outlet!
DJing with vinyl does present itself with challenges, and although I keep a robust shelf of wedding classics at home within my collection, there are many aspects of digging involved to find everything a couple has asked for, leading up to a wedding, I spend many a night scouring the racks at the record shop where I work. I've had bike couriers dropping off Adriano Celentano vinyl when a couple changed their mind on the first dance, and I've begged many a Manchester Discogs seller to meet me in person for the very last minute requests."
"My field of expertise predominantly lies within the reaches of soul, funk & disco - but the two all-time constants on couples' requests lists have been 'Funky Sensation' by Gwen McCrae and 'Return of the Space Cowboy' by Jamiroquai - a strangely difficult record to get hold of but nearly always gets requested. I'm not sure why!
I have one record that I play at every wedding which is a cheap as chips, naff picture sleeved 7"single of 'Love is in the Air' by John Paul Young. Literally every wedding I've played over the last ten years has ended on this and it's never let me down!"
VINYL THEMED WEDDINGS
Alongside growing demand for the warm sounds of vinyl, vinyl-themed weddings are increasingly popular - where musical or vinyl-related elements are incorporated into the big day, whether it's a turntable wedding cake, wedding favours such as classic album covers doubling as menus, or something completely different. Everyone wants their wedding to be unique and if music - and vinyl - is a passion of yours, it's an unbeatable way of putting your personal stamp on the big day.
Our pals at the most excellent Sevens & Twelves specialise in "turning pre-loved vinyl into tailored place-settings", and giving your wedding that hugely evocative and magical vinyl vibe. Their owner, Ant, explains that a love of vinyl is at the core of what they do:
"We're huge fans of vinyl and love the fact that more couples are seeking out vinyl DJs for their wedding reception. A vinyl DJ might not have thousands of tunes at their fingertips but you can be sure that they know their (sizeable) physical collection from top to tail, and have painstakingly packed the perfect tunes for the occasion.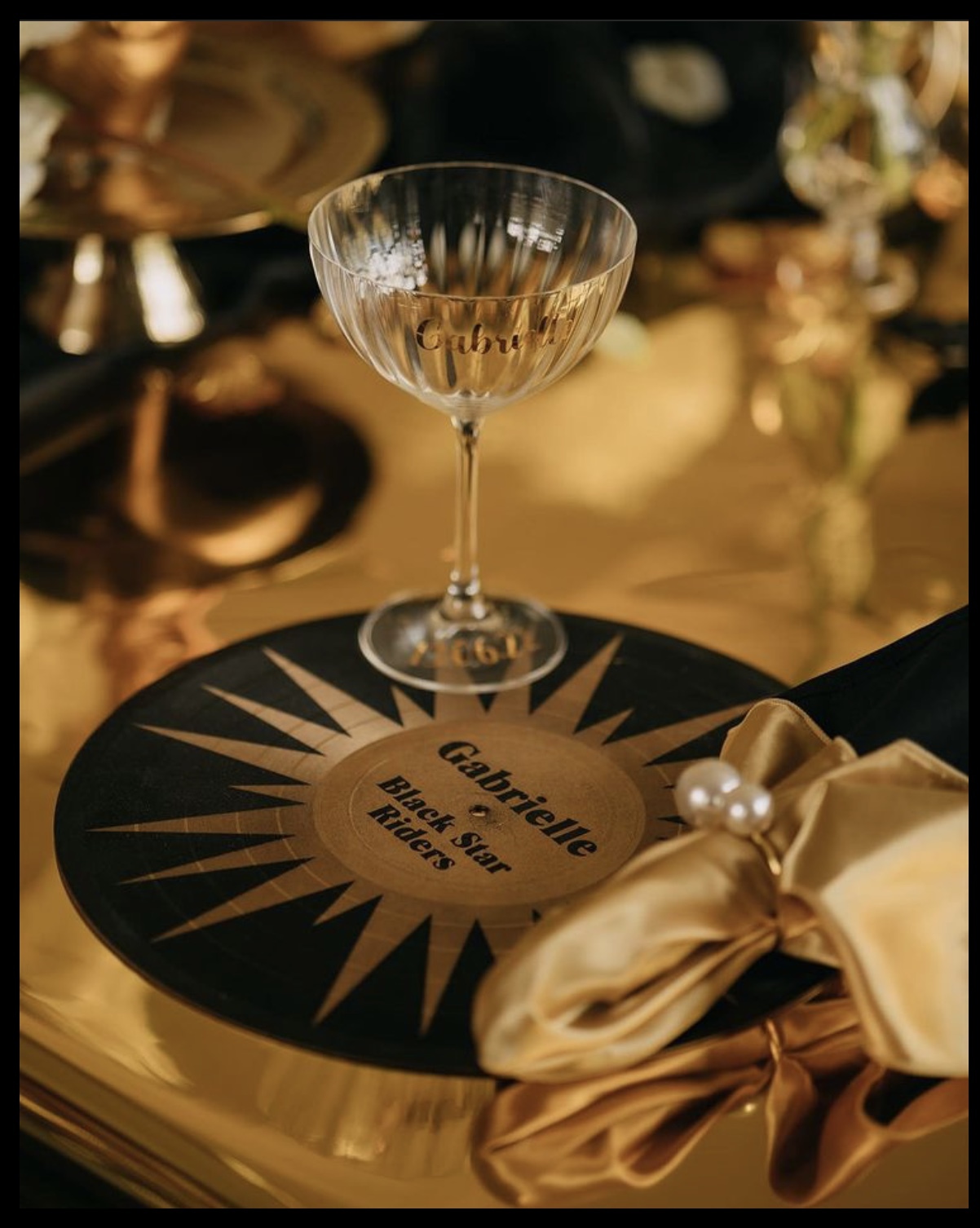 (pic: wonderful wares from Sevens & Twelves)

"As full-blown vinyl junkies, we know how much time, money, knowledge and dedication goes into being a passionate record collector. With a gigging vinyl DJ, you can add technical skill, intuition and muscle (the gear weighs a ton!) to the mix (pun intended!). Take it back to the old school!
"We don't play our own records outside the confines of our home but love the evocative look and feel of vinyl almost as much as the sound. That's why we combined our passion for vinyl, sustainability and art to transform old, unwanted records into pieces for weddings (place-settings, favours, table names, table plans etc) and gifts. Our records have gone down a storm with our music-loving couples and their guests, and there is nothing we love more than seeing our records framed and displayed in their homes as a memento of the day."

(pic: personalised vinyl from Sevens & Twelves)
VIVA VINYL!
One of the reasons we started Wedding Jam was to bring real musical passion to weddings. We've seen far too many DJs phoning it in at weddings - something we're dead proud to avoid like the plague! We also provide an additional nod to our own love of vinyl in the shape of the Wedding Jam 'vinyl scaffold backdrop' - designed for us by the inimitable Mr M Ideas Studio - which we offer as an upgrade on the DJ package (see image below!). Fully customisable with your own favourite album covers, it's a really nifty way of personalising your day and filling the room full of your own cherished musical memories.
In making your special day musically bespoke, you box off one of the key facets of a great, memorable wedding. Bringing vinyl into the equation just makes it that bit more bespoke, that bit more passionate - a vintage flavour for a vintage day. Viva vinyl!