The Wedding Jam Blog
Memorable Stories from Unforgettable Weddings.
Rain On Your Wedding Day
Preparations for your wedding day can be riddled with stresses and anxieties, and one of the most common causes is worrying about the weather and the very real potential of RAIN!

(image: Raw Wedding Photography)
This UK summer has largely been a washout, with June and July among the wettest on record in the UK. It's nothing new for us Brits, but that doesn't make the prospect of a washout wedding any easier. The majority of Wedding Jam weddings over the past two months have been damp at best and, at worst, literally in the eye of the storm - but they've all been fabulous, memorable occasions. Rain doesn't have to spell disaster.

This summer Wedding Jam provided the sounds at one particular bash In Leicestershire, when the heavens opened the very second the first dance began. Just as our DJ pressed play, BANG! And it was no ordinary downpour - a full blown storm, replete with almighty thunderclaps and buckets and buckets of rain hosing down onto the marquee.
Colossal leaks emerged through the marquee and, as the couple danced their first dance, the father of the bride and assorted other kindly fellows took it upon themselves to find pans from the kitchen to fill with rain water, as they filed in and out, disposing of as much water as possible while the happy newly-weds glided around the floor together. It wasn't ideal, but it made for a memorable sight and a heartwarming episode. Spirits would not be dimmed, and that sense of communal stoicism truly added to the vibe.
It's natural to dread rain on your wedding day, with visions of damp dresses, ruined hair, muddy venues and sodden guests blighting your daydreams about the perfect big day. Of all the things related to planning your wedding, the weather is the one thing over which you have no control, but it is still best - if possible - to be prepared and try to have some sort of contingency in place.

If you're having an outdoor ceremony it is very much worth looking for a venue that has an indoor or covered area for you to retreat into if the need for plan B arises. It might also be worth considering having a selection of umbrellas at the ready, dotted around for your guests to help themselves and take cover if necessary. The brilliant Brolly Bucket dispatch brollies to weddings all over the UK, in a range of colours and styles. Store them stylishly in some pretty baskets and not only will it be appreciated by your guests, it will look pretty ace too.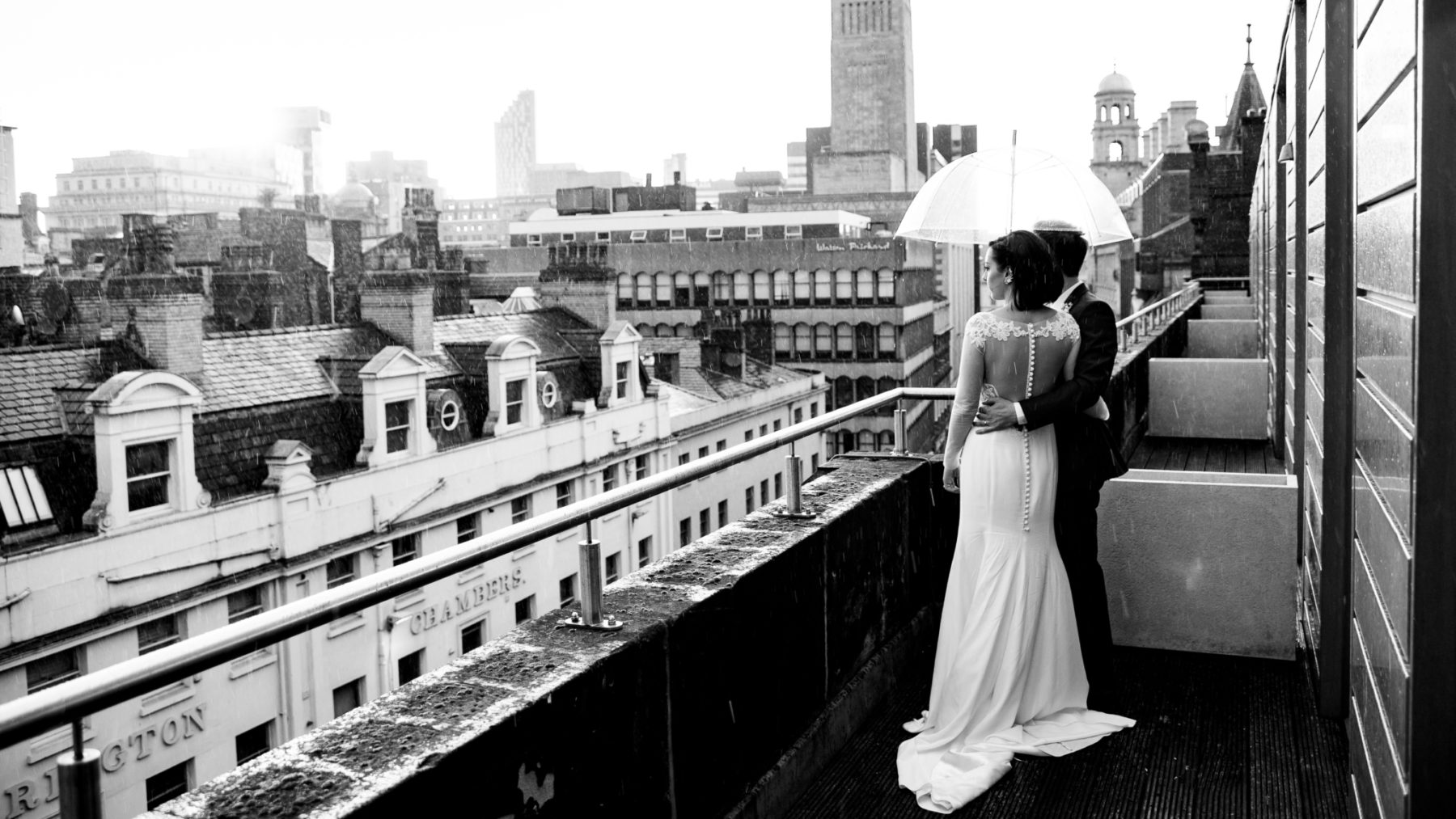 (image: Raw Wedding Photography)
You know what else will look good if the weather is grim? The photos! If dark clouds move in, they can add a breathtaking sense of drama and theatre to the wedding photographs. We know because we've seen them!
And last but by no means least, if the threat of rain looms large, and you're - understandably - letting it get to you, it is worth heeding the words of a Wedding Jam bride from this summer. For their big day, it positively hosed down all day, but they still had the most wonderful time - as did we.
The bride told us:
"You know what, ultimately it didn't matter that it rained on our wedding day - all day! I spent so much time in the build-up stressing about the weather, obsessively checking the forecast non-stop. It wasn't good for me, at all. The night before I barely slept a wink, worrying about the atrocious forecast – but it honestly didn't make a difference on the day. It was still an incredible day and we were both so, so happy! Genuinely, my only regret is that I wish I could go back and not stress about the rain. My advice would be not only to not stress, but to come up with a plan for some kind of back-up if it does rain, so that you're not caught out. Try not to worry because the weather is completely out of your control - just focus on your loved one and everything else will take care of itself!"
Wise words!
If rain is forecast, a few rain-themed songs on the day always lift spirits. Keep a few of those tunes in mind courtesy of our gratuitous washout wedding playlist!