The Wedding Jam Blog
Memorable Stories from Unforgettable Weddings.
50 Years of Hip-Hop
As hip-hop celebrates its 50th anniversary in 2023, we salute the genre's rich past and present, its enormous impact on music, popular culture and Glastonbury...and its increasing presence at weddings!

2023 marks 50 years of hip-hop, with a famous party in the Bronx on 11th August 1973 widely accepted to be the birthplace of a genre that has had a colossal impact on popular culture.
Of course, hip-hop didn't just appear out of nowhere, and it would be churlish to claim rap was born suddenly on that famous night in the Bronx. While that apartment block at 1520 Sedgwick Avenue was undoubtedly the venue at which one of the most influential and pivotal nights in hip-hop's creation took place, the genre emerged gradually in the early 1970s, joining the plentiful dots between West Indian folk traditions, blues, jazz, funk, gospel, soul, disco and a whole lot more to give birth to something original and extremely fresh. It created a new form of expression, one that has gone on to become arguably the most pervasive genre in popular music today.
'This is how I represent over this here beat' - A Tribe Called Quest, 'Electric Relaxation'
HIP-HOP AT WEDDINGS...AND GLASTONBURY!
It's difficult to imagine there being many weddings in the 80s and 90s booming to the sound of hip-hop, but its unstoppable, growing force has seen it become a fixture at weddings today. It is rare for a Wedding Jam bash to pass without at least some hip-hop setting the dancefloor alight, and most of our DJs illuminate their sets with hip-hop classics, deep cuts and beats galore. You love to see it.
DJ Yoda - a pioneering and much-heralded turntablist who we are blessed to have on our roster - is a hip-hop connoisseur par excellence. With hip-hop somewhat under-represented at this weekend's Glastonbury Festival, Yoda will be flying the flag this Friday afternoon (15:30-17:00) at the Stonebridge Bar. It will be some set.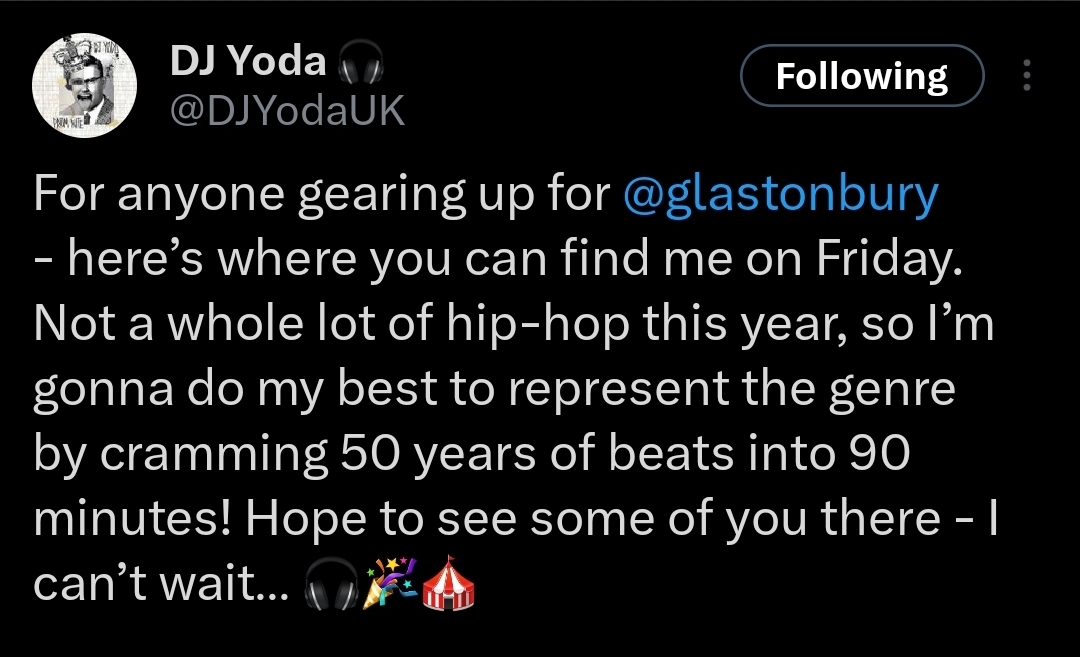 However, hip-hop representation at Glastonbury has, for the most part, steadily grown. In 2008, Noel Gallagher infamously lashed out at festival organisers for booking Jay-Z for one of its headline slots.
"If it ain't broke don't fix it," he said. "If you start to break it then people aren't going to go. I'm sorry, but Jay-Z? No chance. Glastonbury has a tradition of guitar music and even when they throw the odd curveball in on a Sunday night you go 'Kylie Minogue?' I'm not having hip-hop at Glastonbury. It's wrong."
It was a peculiar outburst, given that before 2008 a stack of hip-hop greats had already graced Worthy Farm - including De La Soul, The Roots, Beastie Boys, Jurassic Five and Cypress Hill. It was a rant duly ignored, too, with an increasing number of hip-hop big-hitters going on to set the festival ablaze. Since 2008, Q-Tip, Snoop, Wu-Tang, Tyler the Creator, Earl Sweatshirt, Public Enemy, Roots Manuva, Azealia Banks, Little Simz and countless others have taken to the Glastonbury stage, not to mention Kanye's headline set in 2015 and an utterly blistering headline performance by Kendrick Lamar on the Pyramid Stage in 2022. The increasing prevalance of hip-hop acts headlining Glastonbury is testament not only to its staying power, but its growing influence in popular culture.
It is a genre that simply cannot be ignored - indeed there is no stopping its ubiquitous presence and influence. And long may that continue!
One of our resident DJs, Marcus, loves to infuse his sets with hip-hop, but being the natural crate-digger that he is, goes deeper and often spins the original songs sampled by rap artists.
Marcus told us: "It's good to know the original samples - and also any later r&b tunes that have sampled the hip-hop tunes".
And he's so right. One of the joys of hip-hop is that it is a veritable gold mine of music to go back and discover, with so much of it based around samples of old tracks, famous or obscure, giving them a new lease of life and a new flavour.
And what tasty flavours!
To celebrate 50 years of hip-hop, we asked four of our DJs - Marcus, Nicola Bear, Tom and Paul - to give us a few of their hip-hop Wedding Jam staples, and we've put them together in a little playlist. Dig in, enjoy, and...HAPPY 50th BIRTHDAY, HIP-HOP!