The Wedding Jam Blog
Memorable Stories from Unforgettable Weddings.
Wedding Jam Revisited: Abbey & Tom
Idyllic setting, a stunning barn conversion in the Cotswolds countryside, ideal weather, and the perfect soundtrack.
Here's a look back at one of our favourite events from 2021
- read on to find out what made it so special...
WHEN: Friday 15th October 2021
WHERE: Old Gore by Yard Space, Cotswolds

PACKAGE: Full Day Upgrade including Ceremony Music, Drinks Reception Coverage, Background Playlists, Evening DJ Set with Live Sax

ACTS: Tom Byrne (DJ), Luke Ledger (Sax)

IMAGES: Courtesy of Ellie Grace

CEREMONY
Ok, first thing's first: the small matter of getting married!
Down the aisle came the flower girls, then the Bridesmaids, followed by Abbey (along with her Dad, Trev) – as she made her entrance to the coolest walking-down-the-aisle song ever (literally):


After promising he wouldn't get emotional, there was no holding back, and a rogue tear (of joy!) rolled down Tom's cheek.
Thankfully, Johno was there to assist!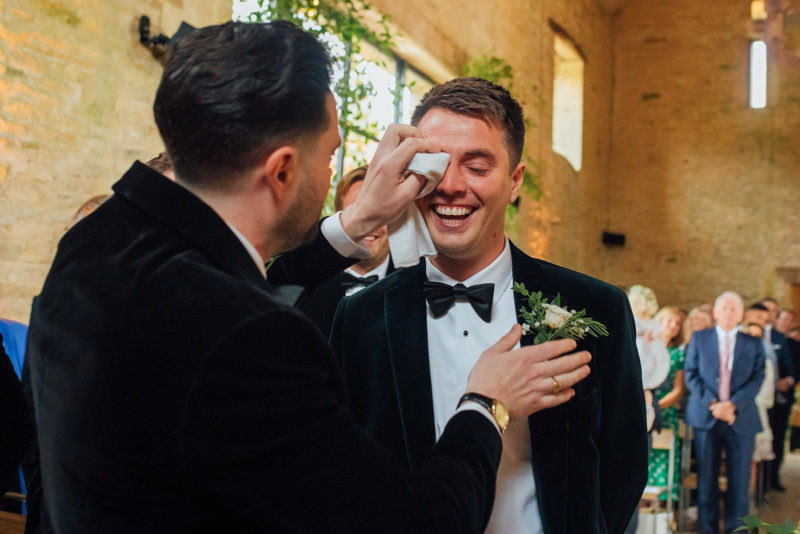 Following readings from friends & family, the all important "I do's", and the signing of the register, Abbey & Tom were announced as husband and wife and it was on to the celebrations!



RECEPTION / DRINKS
Guests mingled, chatted, and ate canapés (provided by the huuuge BBQ pit at Old Gore) – while Abbey, Tom, and their friends and family posed for photos.
---
Playlist: upbeat, modern, charty, dancey
---



WEDDING BREAKFAST


The newlyweds entered the dining hall to a raucous cheering crowd as everybody took their seats for speeches and food.
Heartfelt and hilarious speeches from Abbey's Dad, Tom, and the Groom's best man, dinner was followed by a game of Heads or Tails:
Everyone stands up, and a question is asked, with two possible answers.
One answer is heads (put your hands on your head), the other is tails (hands on your bum!)
If you get it wrong, you sit down... until there's one left standing and we have a winner!!


EVENING RECEPTION
With everyone primed and ready (and fed!) it was onto the main event: THE EVENING PARTY!
Abbey & Tom were keen to reflect their personalities by keeping the soundtrack modern, fun, upbeat, and dancey.
We kicked things off with a dancefloor filler that perfectly set the tone for what was to come later on, the First Dance: Calvin Harris – 'Feel So Close'





---
No sooner had the party started than we kicked it up a gear and introduced the next character in our tale...
"On Sax... please welcome... MR LUKE LEDGER!"


---
The dancefloor was bouncing, shapes were thrown, next level business!
Luke and Tom jammed together on the sax and the decks. Working through a soundtrack of dance bangers, disco anthems, classic r'n'b & hip-hop, and rounding off Luke's set with Ibiza sax classics 'Prayer In C', 'Jubel', 'Man With The Red Face' and finally 'Freed From Desire'
Safe to say, the roof... came... OFF!
By this point it was clear that this incredible crowd were up for anything, so it was time to push the tempo and pull out the garage and drum'n'bass classics!
---
The party continued at fever pitch as everybody danced the night away to tracks from Sweet Female Attitude, Rudimental, Sub Focus, The Weeknd, Craig David, Architechs, DJ Fresh, Sigma, High Contrast, Prodigy and so much more!
A real highlight was dropping this little gem from Prospa – 'Want Need Love' (a track which Abbey said was THE stand out tune from the hen weekend!) – huge big ups to Tall Order for this outrageous drum'n'bass bootleg which went down a storm and resulted in the insanity pictured below!!



---
This one was mayhem and carnage from start to finish (in the best possible way!) and we ended with a rousing rendition of "Wonderwall" as the last song of the night.
So much love in the room. And an incredible day for an awesome couple!
---
Huge thanks to Clayton and the rest of the team at Old Gore by Yard Space for being so accommodating all day - if you're looking for a stunning venue with outstanding food and drink, in an incredible location in the Cotswolds, get in touch today over at Yardspace.co.uk
And finally, a special mention has to go to photographer Ellie Grace for staying til the end and capturing one of our favourite events in this crazy season of weddings, post-covid! Thanks for the images Ellie, you smashed it!
Check out a playlist with a selection of tracks from the party below:
Gallery


















































Whether it's a DJ, sax player, string section or full band you're looking for, get in touch today to find out more about how we can turn your event into a day and night to remember!